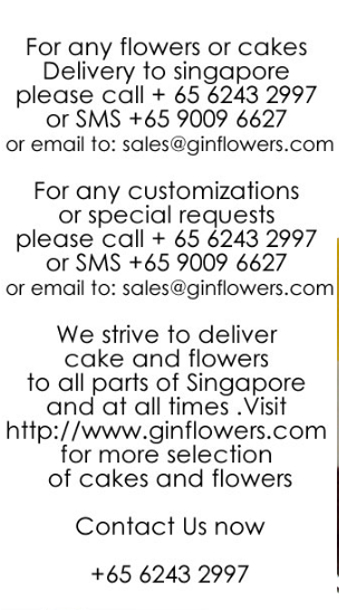 singapore flower delivery singapore cake delivery is your personal florist that delivers the beauty of nature anywhere within Singapore to bring a smile to your loved ones, even when you are a thousand miles away. For every occasion, send your greetings and love with a unique floral creation by singapore flower delivery singapore cake delivery, the most popular florist in Singapore. Make your selection from our wide range of flowers and gifts for all occasions, even Teacher s Day and Easter, and let us do the rest. We ll deliver your heartfelt wishes and blessings right to the doorstep of the one you care for, with fresh bouquets, floral arrangements or with gifts bundled in. Sweep someone off her feet with a floral surprise with same day delivery if you send in your orders before 12 noon Singapore time (GMT +8) or delight your friends or families at home in Singapore during that joyous festive season if you are out of town. As the first florist in Asia to provide our services online, singapore flower delivery singapore cake delivery has helped countless people to deliver their love and greetings to the ones they care about with our flowers and gifts. Browse and take your pick from hundreds of gorgeous and meaningful gifts and flowers. Sending your flowers and gifts through singapore flower delivery singapore cake delivery online is an affordable and discerning choice, saving you the extra charges which come up to more than 50% as compared to gift services. We would love to think that we are warmly perceived as your neighbourhood flower shop because with our online service, we are only a few clicks away from you. Nonetheless, even if you are in Australia, Japan or somewhere even further, we will still help you send your affections to your loved ones because they don t live next door to you. Isn t it convenient that we are your florist-next-door instead? This affable florist-next-door is also well learned when it comes to delivering the right type of flowers to your friends, associates or business acquaintances in Singapore, a melting pot for Asian culture. Send the right message for the right occasion, whether it is to express condolences, congratulate the birth of a new baby or a new business or spruce up the atmosphere for a housewarming party. In addition, amaze someone with special gifts such as silk flowers, wine and food baskets, and even sweet baby gifts such as beddings and toys! Make your gift a perfect one when Chinese New Year comes along, saying it right with prosperity luck and health Though a rose by any other name would smell as sweet, singapore flower delivery singapore cake delivery will still go the extra mile to present the luxuriant touches of nature in the best and sweetest form so as to uplift spirits and bring cheer. With our impeccably green fingers, rich experiences spanning different fields and spectrums of life and a constant stream of fresh ideas in every sense of the word, we can deliver your wishes spot-on with style and substance.
SMS OR CALL +65 9009 6627 Singapore Cake Shop, Birthday Cake, Anniversary Cake, Cheese Cake, Chocolate Cake Delivery Singapore Flower Shop Birthday Flower Anniversary Flower . send birthday cake to any parts of singapore cake shop provides last minute cake delivery service send birthday flowers to any parts of singapore flower shop provides last minute flower delivery SMS OR CALL +65 9009 6627
Marina Coastal Expressway is labelled in single orange line Route information Length: 5 km (3 mi) Existed: 2008 – present History: Opening on 29 December 2013 Major junctions North end: Tanjong Rhu (KPE, ECP) KPE, ECP, AYE West end: Keppel (AYE) Location Regions: Marina Bay, Kallang Highway system Expressways of Singapore The Marina Coastal Expressway (Abbreviation: MCE; Chinese: 滨海高速公路; pinyin: Bīnhǎi Gāosù Gōnglù; Malay: Lebuhraya Pantai Marina) is the second newest of Singapore's network of expressways, and was slated for construction commencement in 2008 and completion at the end of 2013.[1][2] It is set to open on 29 December 2013.[3] The 5 kilometres (3.1 mi) MCE will connect the southern end of the Kallang–Paya Lebar Expressway (KPE) and its junction with the East Coast Parkway to the eastern end of Ayer Rajah Expressway. This links the eastern and western parts of Singapore to the New Downtown, currently being developed in the Marina Bay area. The MCE, with five lanes in each direction, would handle the large number of commuters to be drawn to the offices, homes and recreational attractions there. It will also open access to the Marina Bay Cruise Centre Singapore in Marina South and the existing Marina South Pier.[2] The expressway will comprise a 3.5 kilometres (2.2 mi) underground tunnel, while the rest will be at grade or depressed, with a scenic view of the Singapore Strait.[4] The underground tunnel includes a 420-metre stretch that will duck under the seabed, 150 m away from the Marina Barrage. This poses particular engineering challenges in the tunnel construction as large amounts of water will be let out from the barrage from time to time.[5] At its deepest point, the expressway will lie about 20 metres (66 ft) under the seabed.[2] The 5 kilometres (3.1 mi) long MCE will be Singapore's most expensive expressway. On 28 April 2009, the Land Transport Authority revealed that it has awarded about S$4.1 billion worth of contracts, much more than the initial estimate of S$2.5 billion.[6] The construction of the MCE would also require undersea dredging. More than 22 hectares of land will be reclaimed to build the MCE.[2] In contrast, the KPE, which is 12 kilometres (7.5 mi) and has portions running under canals and rivers, costs only S$1.74 billion. When the MCE is constructed, the segment of East Coast Parkway between Ayer Rajah Expressway and Benjamin Sheares Bridge will be downgraded to a four-lane arterial road and realigned. The present East Coast Parkway blocks the expansion of the city southwards, and hence the revised layout allows the city to expand towards the New Downtown.[7]